Climbing Wall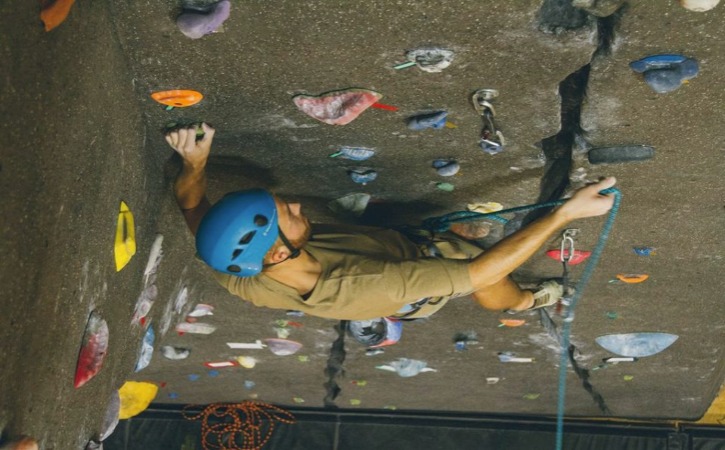 UREC Outdoors Climbing Wall (HPER Gym 1)
Students and UREC members are strongly encouraged to reserve a space through the UREC Member Portal in order to guarantee your spot! Reservations may be made up to one week in advance and will be accepted up to one minute before the reservation period begins. Please note that your reservation is cancelled if you have not arrived 10 minutes after your reservation period begins. Walk-in patrons will be allowed to climb if a reservation spot is open.
Climbing wall reservations will be available in 60 minute intervals Tuesday - Thursday. (e.g. 4:00 p.m. - 5:00 p.m., 5:00 p.m. - 6:00 p.m., etc.). Reservations are limited to six climbers per hour. Climbers will be required to check-in at the climbing wall using the UREC app barcode or by presenting their UARK identification card.
Important Information before making your climbing wall reservation:
Climbing wall usage is restricted to two auto-belays and limited top-ropes.
Climbers are required to use hand sanitizer before and after climbing.
Climbers are required to wear a face covering while climbing.
Climbers are permitted to use chalk.
Climbers are encouraged to clean the auto belay equipment after use.
Climbing wall staff will clean and disinfect climbing equipment after each use.
---
The UREC Outdoors climbing wall is located in HPER Gym 1 (HPER 222). Completed in 2014 by Eldorado Climbing Walls, this 26' structure features seven top rope climbing lanes, five lead climbing lanes, two auto-belays, a hand crack, and a belay ledge.
Only individuals with a valid UARK student ID, UREC members, or valid guest pass may use the climbing wall. Participants must show valid ID prior to each use.
Information
Hours
---
Climbing Wall
HPER Gym 1 (222)

Hours
Monday
Closed
Tuesday - Thursday
3:00 p.m. - 6:00 p.m.
Friday
Closed
Saturday & Sunday
Closed
Contact Us
For additional information on the Climbing program, contact UREC Outdoors at 479-575-CAMP or camp@uark.edu