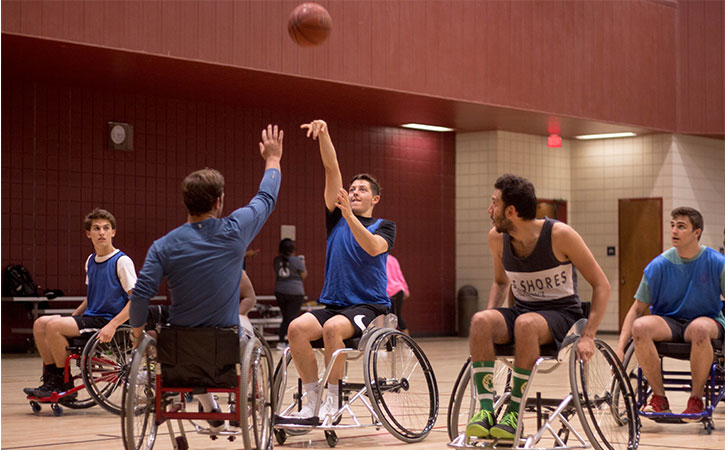 University Recreation strives to offer an inclusive and adaptable environment for all participants. University Recreation can provide modified programs for participants with physical disabilities. Inclusive equipment is available throughout the HPER and UREC Fitness Center.
In addition, most UREC programs are adaptable to a wide variety of physical abilities. Interested participants are encouraged to contact UREC staff to discuss ways in which programs can be modified to accommodate specific needs and interests.
Wheelchair Basketball
Learn how to pass, dribble, and shoot from a wheelchair. UREC staff are present to assist participants and facilitate activities. Drop-in event and all equipment is provided.
 All abilities are welcome.
Day: Wednesdays during the Fall semester. Beginning August 30th, excluding university holidays.
Time: 5:00 p.m. - 6:00 p.m.
Location: HPER Gym 1
Assisted Workouts
Assisted workouts involve pairing trainers with disabled individuals who need help planning and performing exercise sessions. Trainers can serve as guides, as well as help with equipment, access, and transfers. Trainers also help participants set goals and find different ways to exercise that suit their ability levels.
Interested participants will meet with UREC staff for an initial consultation.
For more information contact Casey Fant | Phone: 479-575-3542