Equipment Rentals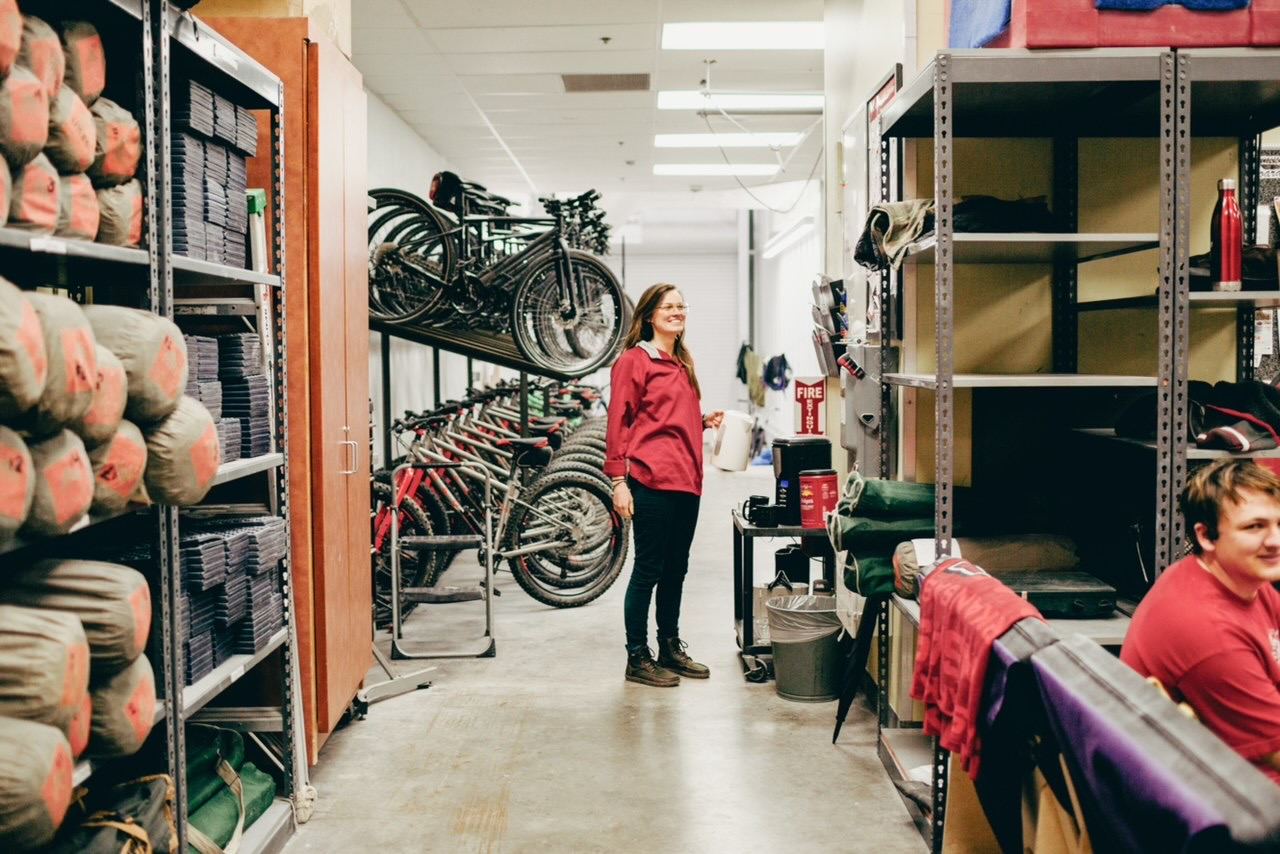 UREC Outdoors (HPER 102) offers a wide variety of outdoor recreation rental equipment. Currently enrolled students, UREC members, and individuals with a valid UARK ID (including faculty and staff) may check out equipment. UARK faculty and staff may rent equipment without having a current UREC membership.
UREC Outdoors values the safety of our patrons and our staff. Due to COVID-19 we have adjusted our rental center capacity and equipment pick-up/return operations. You can see those adjustments below. Patrons are required to maintain adequate social distancing (6+ ft) and wear a face-covering when visiting UREC Outdoors, picking up or dropping off rental equipment.
All 3+ day rentals will receive 10% off!
Rental Center Operations
University of Arkansas students, faculty, staff, and UREC members, will be able to pickup, reserve, or drop off equipment during posted hours of operation. Equipment rental reservations, curbside pick-up, and curbside return is strongly recommended during this time.
While we are happy to accomodate walk-in customers, please note that our rental center has a limited capacity due to physical distancing guidelines, so there may be a delay in being able to access our physical location. Curbside equipment pick-up and return will occur just outside of the HPER door 1 entrance (adjacent to the Meadow Street Parking Garage).
Equipment Available for Rent
UREC Outdoors has an extensive inventory of camping, cycling, climbing, and paddling equipment. Whether you're looking to outfit your next backpacking trip or paddle on the Buffalo, we've got the equipment you need to create your next outdoor experience.
To view a comprehensive list of available equipment and rental rates, visit the camping, climbing, cycling, and paddling equipment rental pages.
Equipment Reservations
Equipment may be reserved in advance and may be made up to one week prior to the planned check out date. Reservations must be made by calling 575-CAMP (2267) during hours of operation. To reduce the number of patrons loading equipment at one time, you will be required to schedule an equipment pick-up time on the date your equipment rental begins.
Payment, due at time of check out and paid by phone, may be made with Visa/MasterCard/Discover/American Express, or a University cost center number.
Equipment Pick-Up and Return
Please call UREC Outdoors (479-575-2267) when arriving for reservation pick-up. UREC Outdoors staff will go over the equipment rented and payment will be completed over the phone. The equipment will be carried out to your vehicle for loading. We ask you wait in your vehicle until the equipment is brought to your vehicle. You will be required to sign your credit card receipt and complete a rental agreement at that time.
NOTE: Unless you are renting a kayak, canoe, or SUP please park in the Meadow Street Parking Garage while waiting for your equipment to be delivered. Kayaks, canoes, and SUPs may be picked up by utilizing the designated loading zone under the bridge that is adjacent to HPER door 1.
Please note if you are renting a boat we ask you patiently wait in your vehicle or provide safe social distancing while our staff loads your boat on your car. If the loading zone is occupied, please drive to an alternate location and return once the loading zone is made available. Avoid parking/waiting in the street adjacent to HPER door 1 due to high traffic flow. If you would rather load your boat yourself, please let us know when you call in to pick-up your reservation.
Our staff will accept curbside returns during normal hours of operation ONLY. Please use the designated UREC Outdoors Rental Equipment Pick-Up & Return loading zone under the bridge just before HPER Door 1. Our staff will inspect the equipment, check it in, and let you know if late, damaged, or missing equipment fees apply.
Equipment Care and Fees
Rented equipment is due back to UREC Outdoors by close on the date specified on the rental contract and receipt. Equipment should be properly maintained and returned clean, dry, in good repair, and on the due date to avoid repair, replacement, or late fees. All late, damage, and/or replacement fees are due upon return of equipment. A late fee equivalent to the daily rental rate will be applied for each day an equipment item is overdue.
If UREC Outdoors staff discover damage to equipment during maintenance and cleaning, the renter is responsible and must pay for damage or replacement costs. Please read the rental equipment agreement (available at time of check out) for more information. Patrons are responsible for inspecting all equipment prior to rental to ensure proper working order and assess overall condition of equipment.
Questions?
If you have questions about UREC Outdoors, contact us at 479-575-CAMP (2267), camp@uark.edu or visit HPER 102.