Equipment Rentals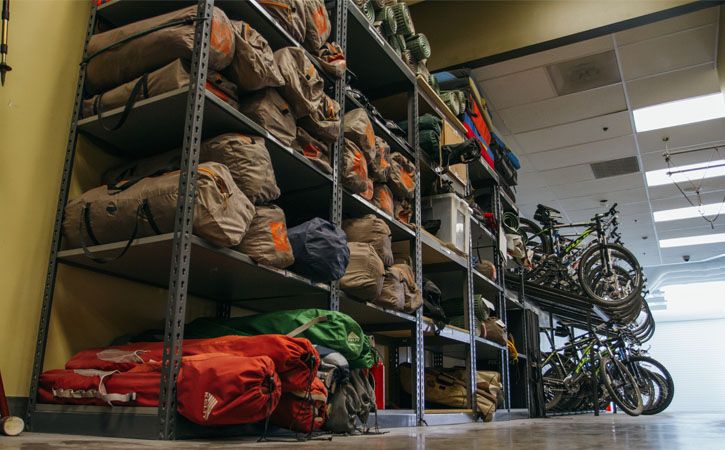 UREC Outdoors, in HPER 102, offers a wide variety of equipment for rental. Currently enrolled students, UREC members and individuals with a UARK ID (including faculty and staff) may check out equipment.
Equipment may be reserved up to one week prior to the desired date. Reservations may only be made in person; phone reservations are not permitted.
The rental form must be filled out completely. Payment, due at time of check out, may be made with check, cash, Visa/MasterCard/Discover/American Express, or a University cost center number.
Equipment Care
Equipment should be properly maintained and returned clean, dry, in good repair, and on the due date to avoid repair, replacement, or late charges. All late, damage, and/or replacement fees are due upon return of equipment.
If UREC Outdoors staff discover damage to equipment during maintenance and cleaning, renter is responsible and must pay for damage or replacement costs. Please read the renter's agreement for more information.
Inspect all equipment prior to rental. Day, weekend, and weekly rentals are available on all equipment. For longer rental periods, contact our staff about discounted rates for extended rentals.
What You Can Rent
UREC Outdoors has recently acquired new boats, stoves, sleeping bags, tents, PFDs, and more from companies such as Kelty, MSR, Jackson Kayaks, and Osprey Packs. Come visit and let us help you get outside in the Natural State. If you are looking to rent a bike in northwest Arkansas, try out on of our Marin mountain or touring bikes.
To view comprehensive lists of available equipment, visit the pages for various types of activities: Camping, Climbing, Cycling, and Paddling.

Questions?
If you have questions about UREC Outdoors, contact us at 479-575-CAMP (2267), camp@uark.edu or visit HPER 102.