Sports Calendars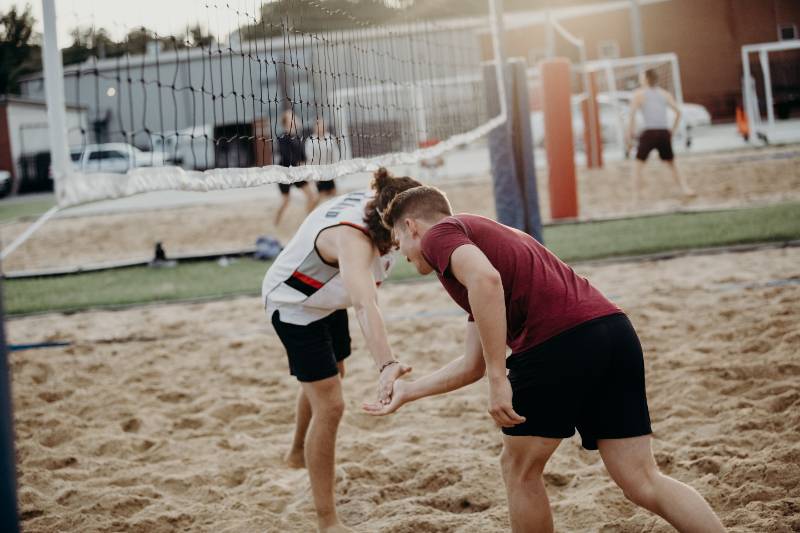 Fall 2022 Intramural Sports Disclaimer

Participants for in person events will be required sign an Intramural Sports Waiver.

Important: All registrations are conducted at https://urecmembers.uark.edu/. You must sign-in and click Intramurals Sports, then click Register. For assistance email imsports@uark.edu.

All dates and events are subject to change

All registrations close at 12pm the day it closes, unless otherwise noted.
Fall 2022 Session I Sports
| | | | | |
| --- | --- | --- | --- | --- |
| Sport | Registration Opens | Registration Closes | Start Date | Location |
| Board Game Night | August 22 | August 31 | August 31 | Adohi |
| 3v3 Basketball | August 22 | August 31 | September 6 | Gym 4 |
| Flag Football | August 22 | September 7 | September 11 | UREC Sport Complex |
| Cornhole | August 22 | September 14 | September 14 | UREC Sport Complex |
| 4v4 Sand Volleyball | August 22 | September 21 | September 25 | UREC Sport Complex |
| Pickleball | August 22 | September 28 | September 28 | UREC Tennis Center |
| Rocket League | August 22 | November 4 | November 10 | Union Technology Center |
Fall 2022 Session II Sports
| | | | | |
| --- | --- | --- | --- | --- |
| Sport | Registration Opens | Registration Closes | Start Date | Location |
| 5v5 Coed Basketball | October 10 | October 20 | October 23 | Gym 3 & 4 |
| Outdoor Soccer | October 10 | October 20 | October 23 | UREC Sports Complex |
| Billards | October 10 | October 26 | October 26 | Adohi |
| Tennis | October 10 | October 26 | November 14 | UREC Tennis Center |
| Stickball | October 10 | November 4 | November 4 | UREC Sports Complex |
| Dodgeball | October 10 | November 9 | November 9 | Gym 1 |
| Table Tennis | October 10 | November 16 | November 16 | HPER Table 1 & 2 |