First Aid, CPR and AED Certification
First Aid, CPR and AED Certification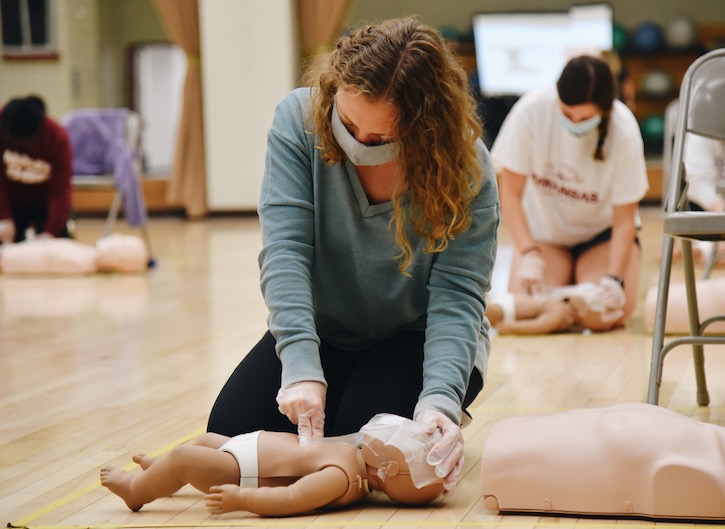 University Recreation offers American Red Cross First Aid, CPR, and AED certification courses. In addition to Adult and Pediatric CPR, participants will learn First Aid; including bleeding emergencies, sudden illnesses, and muscle/bone/joint injuries. Participants will also learn how to operate an AED.


This course is a Blended Learning course and will require completion of an online module before date of class. Registration closes one week prior to the class date. Online module information will be sent out six days before the course. Only U of A students and faculty/staff are able to register online. Participants must be 15 years old on or before the date of the class.
Classes are taught with American Red Cross Social Distanced Guidelines to ensure the saftey of participants and instructors.
UA Students can register online at the UREC Member Portal.
Class Dates:
Spring 2021 Class Dates:
Wednesday, February 17th; 5:30pm-8:30pm
Wednesday, March 17th; 5:30pm-8:30pm
Wednesday, April 14th; 5:30pm-8:30pm
Cost:
$80.00 for U of A students
$100.00 for non-U of A students
Cancellation Fee:
$25.00 until 2 weeks prior to class date; 50% of class cost until 1 week prior to class; 100% of class fee within one week of class.


Contact Us:
Need a class set up for your department? With a minimum of 10 participants, UREC can bring this class to your office, residence hall, or other venue.
Contact Laura Hudson at laurah@uark.edu for more information about offered classes, or to schedule a class for your organization.