Certifications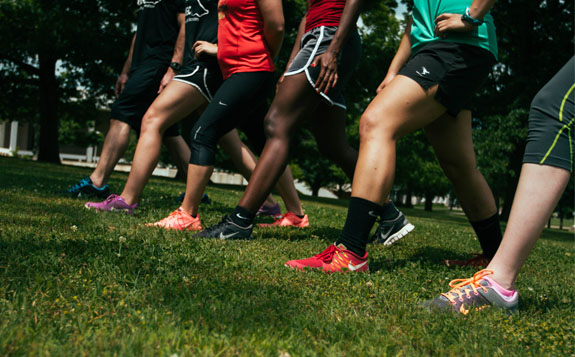 UREC is proud to host nationally accredited certifications in a variety of areas including group fitness and personal training. Special interest classes and programs are also offered periodically throughout the year.

Certifications:
This course is designed to prepare individuals to take the ACE Group Fitness certification exam. This 10-week course provides curriculum and materials consisting of PowerPoint presentations, lectures, interactive group activities, and practical programming/training. The Prep Course does not certify individuals as group fitness instructors. Individuals wishing to become certified group fitness instructors must register separately for an ACE Group Fitness certification exam at www.acefitness.org.
Spring 2017 dates: February 7th - April 18
th
Time: Tuesdays from 3:15 p.m. - 5:15 p.m. in HPER 315
Cost: $150.00 for Students, $200.00 for UREC members
Registration: UREC Main office or online at urec.uark.edu > member services
PulsePointe barre is an innovative and challenging barre experience that seamlessly weaves together traditional muscle-sculpting barre choreography with exhilarating cardio segments to define and challenge the body in a whole new way. PulsePointe takes barre to the next level by matching each segment with upbeat music to motivate and energize your class from start to finish! By utilizing the unique PulsePointe barre class blueprint, you can mix and match the barre segments using your own creativity to deliver a rock solid class every time!
When: Sunday, April 23, 2017 from 8:00 a.m. - 5:00 p.m.
Where: HPER 216
Cost: $260 before April 2, 2017 or $310 after April 2, 2017
Registration: www.pulsepointebarre.com or email info@pulsepointebarre.com
Come learn how to structure, prepare, and teach an indoor cycle class on UREC's IC7 Matrix bikes. Anyone is welcome! There are only 16 spots available, so please make sure to contact Shaina Hayutin ahead of time to register and save a spot!
When: Friday, May 5th (Dead Day) 2:00-4:00 p.m.
Where: UREC Cycle Studio (1st floor of the HPER)
Cost: FREE
Registration: Email Shaina Hayutin sehayuti@uark.edu