Small Group Training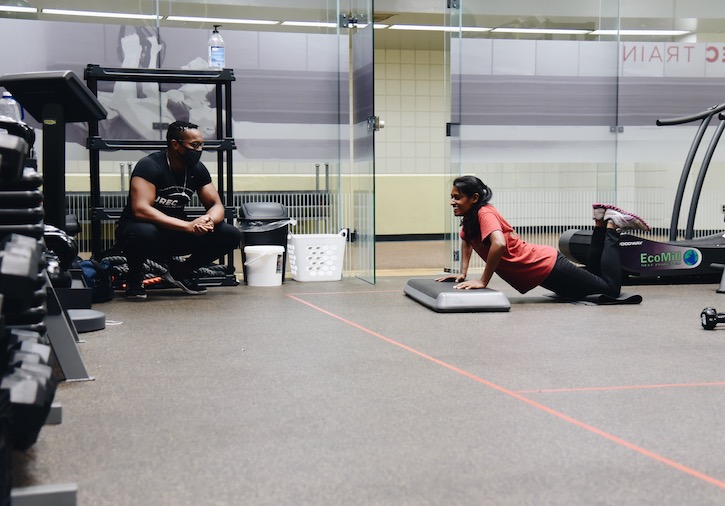 Small Group Training classes utilize a variety of fitness equipment and technology in a challenging and fun environment. The UREC certified personal training staff will take you on the ultimate fitness experience while providing you with motivation, tips and progression toward your goals.
The dedicated UREC Train studio is located on the first floor of the HPER and allows for a private studio space for training session with our accredited person trainers. Supporting equipment includes: Technogym TEAMBEATS, TRX suspension trainers, Rip trainers, kettlebells, plyometric boxes, training ropes, powerlifting rack, and more.
Spring 2023 Sessions
Session 1: Monday, January 30th - Thursday, March 9th
Session 2: Monday, March 27th - Thursday, May 4th
Cost of Session: Students- $43 UREC Members- $57
Small Group Training Classes
| Monday/Wednesday | Tuesday/Thursday |
| --- | --- |
| 12:00 p.m. - 12:50 p.m. | 12:30 p.m. - 1:20 p.m. |
| 5:30 p.m. – 6:20 p.m. | 6:00 p.m. – 6:50 p.m. |
Small Group Training combines variety, efficiency and fun in a single workout that is unlike any other group fitness experience. Each week builds on the progress made in earlier sessions with exercises designed to improve agility, functional strength, power, and muscular strength.
Throughout the program, workouts will deliver varying degrees of intensity, starting with a dynamic warmup and peaking with high-intensity agility and strength exercises utilizing innovative technology powered by Technogym.
Each SGT team is made up of up to eight participants, creating a friendly and motivational workout environment.
Registration
Registration Periods:
Session 1: 1/9 - 1/29
Session 2: 3/6 - 3/26
Register for classes online at the UREC Membership Portal and select Fitness/Wellness under Category.
If registering online please fill out the registration packet below and email to jstroope@uark.edu.
Small Group Training Registration Packet
Questions
Interested in learning more or have a question about small group training? Contact Jordan Stroope at jstroope@uark.edu