ARAP Conference
About the Conference
The Arkansas Regional Adventure Programming conference is a student-oriented programming weekend forindividuals who want to connect with other outdoor education enthusiasts.
Conference attendees from the region can share ideas and practices while attendees from neighboring statescan learn about what Arkansas has to offer.
Whether you are a part of a seasoned outdoor program or thinking about starting a program, the Arkansas Regional Adventure Programming Conference is for you.
Past Conferences
ARAP started in the spring of 2012 and has always been hosted at Horseshoe Canyon Ranch in Jasper, AR. During its eighth year (2019), conference attendees represnted 26 different colleges, universities, and organizations. ARAP 2019 also had the conference's highest attendance with over 160 registered guests.
Description of the Area
Horseshoe Canyon Ranch has over 300 bolted climbing routes and over 130 boulder problems.
The Buffalo National River is one of the few free-flowing rivers in the United States. The Buffalo River is135 miles in length and winds through massive limestone bluffs and historical sites that have createdOzark traditions.
The Buffalo River Trail and Ozark Highlands Trail have over 250 miles of scenic day hikesand extended backpacking trips in store.
Registration is currently closed.
Please enter the requested information in the fields below. Click "Register" and you will see a green box with an additional link that you must click. From there you will be redirected to a secure University of Arkansas eCommerce web page where you will complete payment. Registration is not complete until payment has been received. Have questions? Feel free to contact Mike Hoover at mdhoover@uark.edu, or give us a call at 479-575-6834.
Early bird registration (Until March 24, 2019 at midnight): Student - $60.00; Professional - $75.00
Normal registration (After March 24, 2019): Student - $75.00; Professional - $90.00
Online registration will remain open until 5:00 p.m., April 12, 2019.
Typical Registration Includes:
Friday night: Social, band, dinner
Saturday: Breakfast, sessions, film showing
Camping & climbing fees for the weekend
Conference T-shirt**
**T-Shirt availability and size is not guaranteed for those who register after March 8th. 125 shirts available.
Not included:
Pre/Post conference sessions (if applicable)
Lunch Saturday, Breakfast Sunday
Food for Dutch Oven cook-off (you should bring one entree or dessert, enough to feed your group and some extra, it will be served pot-luck style)
Pre-conference Opportunities
Competition Route Setting Clinic - featuring USA Climbing curriculum and techniques - (1pm-5pm)
Join staff from Iowa State for a USA Climbing style route setting clinic that will improve your ability to set comp problems!
Gain a foundation for managing your climbing competition to make your process as effective and efficient as possible
Work together to set new problems for your friends to climb at the conference
Limited spots available, for any questions please contact Jarrad Walters-Chester @ jchester@iastate.edu .
Mountain Bike along the Buffalo River - (1pm-5pm)
Ride new trail built at Camp Orr, directly adjacent to the Buffalo National River
Shuttle available
Bring a bike or reserve one from UREC Outdoors by emailing kennethw@uark.edu by April 8
Meet at the trading post
SUP or Paddle the Buffalo River - (1pm-5pm)
Paddle a short but classic section of the Buffalo River, from Ponca to Steel Creek
Vehicle shuttle available, or paddlers can choose to hike the Buffalo River Trail back to the put-in!
Limited SUPs and boats available, bring your own or reserve one by emailing kennethw@uark.edu
Meet at the trading post
5 great ways to start and end your ARAP experience
Bring or rent boats and float the Buffalo National River!

Ponca to Steel - short option, Steel to Kyles - longer option

Hike Indian Creek (Just across from HCR), Big Bluff, or Hawksbill Crag

Climb and/or Boulder at HCR

Play disc golf at HCR (course goes throughout the ranch)

Mountain Bike NWA trails or Buffalo Headwaters trail systems
Conference Schedule
Friday
Pre-Conference Activities (see options listed above)
Conference Welcome and dinner
Barn social and music + Five Ten shoe demo!
Campfire social
Saturday
Yoga or Trail Run
Breakfast
Keynote Speaker in the Barn Loft
Presentations and workshops
Lunch social (we'll have the grill ready!)
Dutch oven Cook-off and dinner
Film showings
Gear Raffle
Sunday
Transforming experiences into meaning: An introduction to Adventure Therapy

ARAP Boulder Comp
Post Conference Activities (see self-guided options listed above)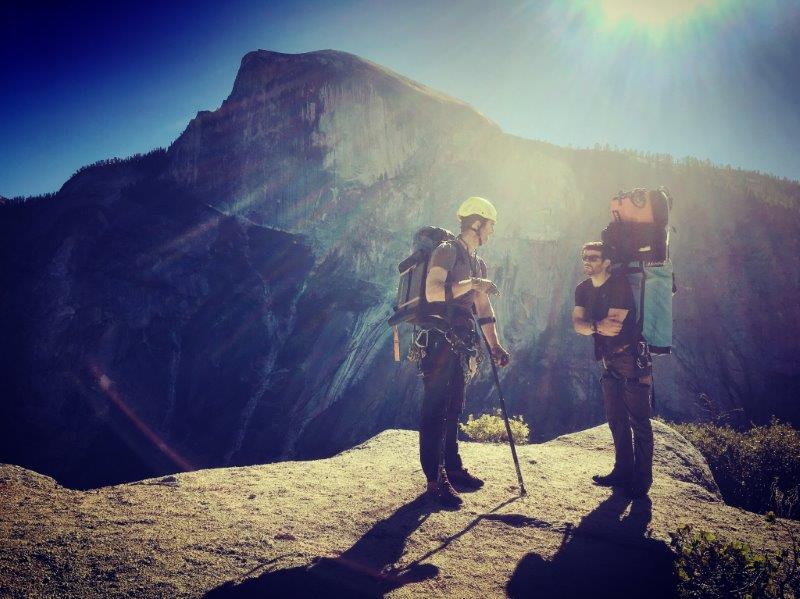 PC: Alex McKiernan
The ARAP planning committee would like to introduce Alex McKiernan as the 2019 conference Keynote Speaker!
Alex's keynote address, What Doesn't Bend Breaks, will share the story of a debilitating spinal cord injury that initially left Alex paralyzed and pushed him into physical, mental, and emotional territory that he had only previously visited on the sharp end of a climbing rope. Lessons learned in the mountains are the ones he relied on to be present for the greatest challenge of his life.
In 2014, Alex's severe injury brought him back to climbing, and he has since led big wall pitches in Yosemite National Park, completing "The Prow" on Washington Column in 2016 and "Zodiac" on El Capitan in October of 2018. Today, Alex runs an organic vegetable farm in Nebraska with his wife and family.
Click the image above to visit Alex's article in the Alpinist!
The Arkansas Regional Adventure Programming Conference will be centered around student and professional presentations. If you have a special skill to share, a unique programming idea, or an opinion to share, please propose a presentation. Presentations will consist of a combination of skill based workshops and traditional informational sessions.
The presentation proposal deadline has passed. Please consider submitting a proposal next year!
A registration waiver will be awarded to a select few students that have shown a commitment to outdoor education and recreation. The Student Registration Waiver covers the registration cost of the Arkansas Regional Adventure Programming Conference.
Additional Information● Registration Waiver recipients are responsible for travel to and from the conference● Waivers funds are not transferable to another person● Application materials received after March 17th will not be considered● Please be sure to reference your name on all submitted materials● Students who are not selected will still receive early bird pricing, even after March 24th
The application period for 2019 registration waivers has passed. Please consider applying for a waiver next year!
ARAP 2019 is excited to bring you No Man's Land Film Festival!
No Man's Land Film Festival is an all-woman adventure film festival based out of the Rocky Mountains of Colorado that meets a need and desire to highlight and connect individuals who identify as women in pursuit of the radical. We are a collaboration and celebration of humans who are deeply engaged in enhancing the female presence in the adventure arena. The goal of this festival is to connect like-minded individuals who are action-oriented, wish to support a shared vision of gender equality, have a desire to experience their passions and environments through a uniquely female lens, and above all, love adventure. Along with cultivating a deep interest in exploring the vastness of our planet from a female point of view, No Man's Land strives to create a history of motivating audiences to implement and inspire change. Our mission transcends the films presented; this festival acts as a platform for progressive thought and movement in the outdoor industry. At No Man's Land, we aim to un-define feminine in adventure and sport through film.
The Arkansas Regional Adventure Programming Conference relies on local and national sponsors to create the educational and networking opportunities for the students who attend. If you are interested in sponsoring the conference, please complete the attached sponsorship packet and email to Kenny Williams, kennethw@uark.edu.
2019 Conference Sponsorship Packet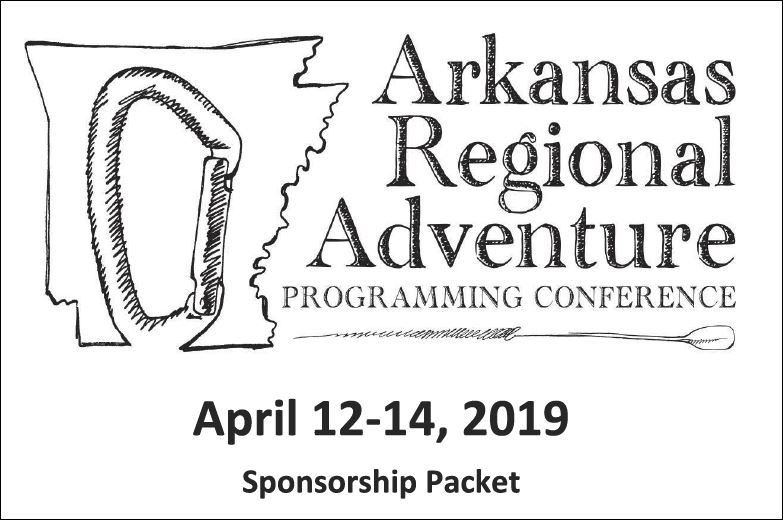 ARAP Registration Refund Policy
Full refunds will be available until March 22 at 5:00 p.m.
Refunds with a $30 fee will be available from March 22 - April 5 at 5:00 p.m.
No Refunds after April 5 at 5:00 p.m.